KATHMANDU: There is no mistaking what he sees as he climbs across the rubble.
The fabric lies bright against the grey rubble. Khalil Khader picks up the dusty and tattered child's pyjamas and is instantly overtaken by memories.
The toddler in her pyjamas. Rosa, his daughter, 18 months old, the baby of the family.
Khalil shows a video on his phone. Rosa wears the same blue nightwear and is holding the hands of two older cousins. The three of them dance in a circle.
The video was filmed in slow motion, so it seems as if the children are swaying in a gentle breeze. They are smiling. It is playtime and their lives have not yet been overtaken by war.
Khalil is a quiet spoken man, aged 36, a computer engineer at Al-Najjar hospital in Rafah, and the father of four young children: Ibrahim, aged nine; Amal, aged five; Kinan, two-and-a-half, and Rosa the last born.
Khalil steps carefully across the rubble. The house is only a few minutes walk from the hospital. There is now a mound of masonry and metal, household objects and some children's toys. A small drum. A toy piano.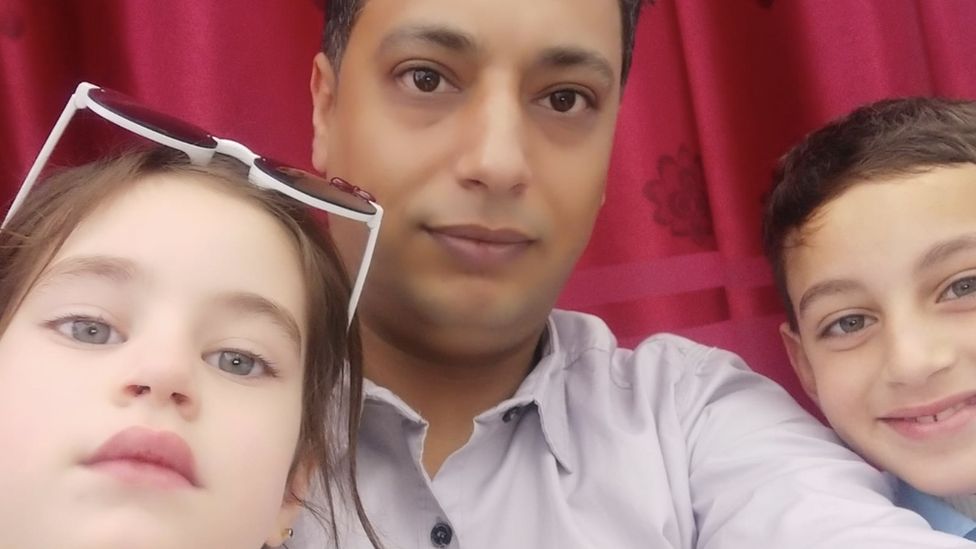 On the night the missile struck – October 20 – Khalil was working at the hospital.
"A massive bomb exploded," he told one of my BBC colleagues who went with him to the scene of the attack.
"My neighbours were coming to the hospital. So I asked, 'Where was the bombing?' And they told me, 'It was around your house.' I had to run to the location to check on the family. I tried calling but no one was answering. And as you can see… the whole house was bombed." Eleven members of his family were killed.
They included his four children, his two sisters, his 70-year-old father, his brother and his sister-in-law, and their two daughters. They were wrapped in white shrouds in a courtyard of the hospital.
His wife was badly wounded. She is being treated for burns and other injuries sustained when the house collapsed.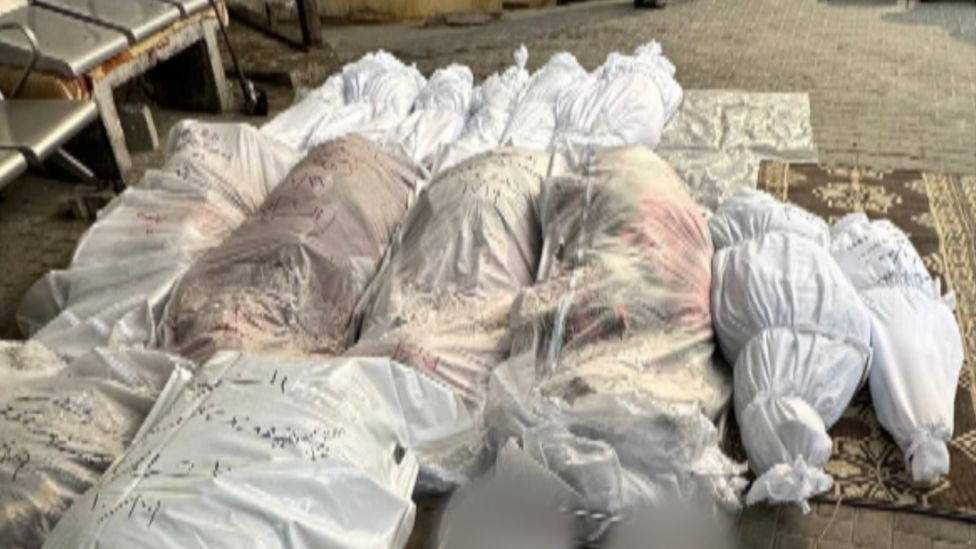 Khalil had known war before in Gaza. The small strip of land – with a total land area of just 141 sq miles (365 sq km) – has seen relentless conflict over decades. Such was the legacy of conflict that he worried about raising a family there.
"I remember in the 2014 war, my wife was pregnant," he recalls, "and our neighbours were bombed. She was in her seventh month and almost fell down the stairs from the blast. And I was thinking, how can I bring children into this life?" But he imagined that a better life might be possible for them.
"I had a dream for each of my kids. Ibrahim was first in his school and I dreamed about seeing him as a doctor one day. Amal was very creative, she loved drawing. And she used to show me her drawings, and sometimes I would draw with her.
"Kinan was very playful – everyone loved him. And he used to take care of his little sister. He was always there to protect Rosa, and would say, 'Don't touch her, she's my baby!' And now they are all gone."
Khalil is still searching for the body of his sister under the rubble. And he must support his wife in hospital. His children are gone.
But as he shows one photograph after another of Ibrahim, Amal, Kenin and Rosa, there is a tenderness in his eyes. He will always be their father. -BBC
WebDurbar